Details
Full story coming soon....
Details
SYC AGM held at the clubhouse at 2.00pm on Saturday 14th of November 15.
Meet our new Honorary Life Member - congratulations Dierdre.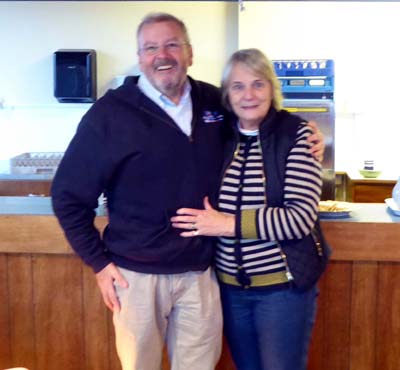 Solway Yacht Club, AGM Highlights 14th November 2015
A total of 43 members, including the Committee, enjoyed a great round-up presentation of the Club's activities during 2015 from the Commodore. Jim Holland's slide show highlighted the positives but, like the proverbial "Curate's Egg" it was good in parts but this was offset by bad weather causing loss of several events and two days of Kippford Week.
You can see Jim's annual round up presentation here
Strong positives included
New pontoons.
First Aiders: now have team of 11 fully qualified.
Cruiser Craning in: perfect day; followed by Curry Brothers great evening, all curries prepared from scratch and evening raised £250 for local Marie Curie.
5 Castles (Schools) Regatta; founded by Willie Patterson, team racing between local Schools in at Galloway Activity Centre, won by team including SYC's Zak Holland.
Stewartry Sports Council's "Dragon's Den"! awarded £750 to SYC Sailing Scholarships.
Cadet Week; best for many years with the innovation of "Les Kepis Blancs". Arrival of Tall Ship, "La Malouine" Cadet Dinner and Ceilidh were "a blast"!
RNLI Regatta: Excellent event with the "Hunca Hunnies" winning the cruiser race & in the media and making Yachts & Yachting as well as local press.
Kippford Week: started with 2 days lost due to high winds.
Sadness at passing of Rona Cropper, longstanding member.
Looking ahead to 2016, highlights will be 60th Anniversary of Cadet Fleet, Scottish Flying Fifteen Championships (4th & 5th June).
Finally Commodore thanked the Committee for their support & work over the year.
Then followed discussion on agenda items: -
Treasurer's Report: Year of major capital investment totalling £32,000. Much on pier & pontoon but also new timbers to front of Clubhouse and strengthening of balcony floor (garage roof). Report on Pier & Pontoon electrics shows more expenditure needed.
Subscriptions & Fees: No increase in subs for 2016 and 2% on storage fees, latter approved after discussion on over-complicated structure of charges. Proposed to set up a Working Group from membership to make recommendations to be put to 2016 AGM.
Election of Officers: 2016 Committee duly elected with Jim Holland in his second year as Commodore.
Rule Change: introduction of Group Membership category approved.
One year trial of Reciprocal Membership with Annandale SC approved but also to be approved by their AGM before can be implemented.
Honorary Membership bestowed by Committee on Deirdre Harding for her outstanding service.
Sailing Secretary announced that Duncan Blandford has won SYC Championship.
SYC presented with Otley SC pennant in recognition of close links with SYC.
Submitted by Hon Sec Ian Purkis (now Vice Commodore)
Members Beware - we have had thieves on the SYC Pier
An outboard engine has been stolen from fishing boat Uhuru, a white power boat parked on the SYC Pier during the past 6 weeks.
The stolen engine was 30hp and a 2 stroke, its weight would have needed a pair of thieves to move it, possible with a trolley.
The thieves had cut through the security padlocks holding the fastening bolts in place, and had also cut through the electrical and steering cables near the engine.
The pier barrier makes the pier more secure, if it is closed and locked, please ensure this is so.
Please report any suspicious activities to the local police. They are investigating the above theft.
Please report any developments to the This email address is being protected from spambots. You need JavaScript enabled to view it. so that we can publicise for the benefit/re-assurance of other members.
Charles Elliot our pier master and others have reported that all is in order as far as they can tell.
Details of stolen motor
30hp Yamaha 2 stroke, the traditional blue colour. It stands about 4 feet tall and is very heavy. Model Yamaha 6J8 and its serial number is 455308 on the ID plate.
If you hear or see any motors like this in suspicious circumstances please contact the Police at Dumfries Tel 101 or This email address is being protected from spambots. You need JavaScript enabled to view it.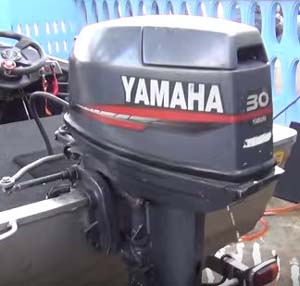 Similar motor
Published 3 Jan 15
---
Boat Parking and Storage
Due to a growing demand for the use of the Club's hard standing areas your committee are having to introduce some regulation to the issue, these briefly are: -
Trailer Identification:
To assist the committee in identifying trailers and launching trolleys (including dinghies and tenders) please have your boat name clearly marked on them.
Summer Trailer Parking:
Cruiser owners should ensure that all trailers are removed from the pier head to the rear of the Yacht Club and parked in a tidy and considerate manner for the duration of the sailing season.
Trailer-Day-Sailors & Motorboats without permanent parking on the pier head should store their trailers neatly on the hard standing behind the small car park whilst the boats are in use.
Craning Out and Winter Boat Parking:
Applications must be made in writing to the club secretary for 09/10 boat craning and winter boat parking regardless of whether or not you already use this facility - consideration will be given to existing users.
Application forms will be sent by e-mail or postage to existing users in good time and are available on the download page of the club web site. Payment will continue to be made with membership renewal - in arrears.
The committee will allocate the winter parking to make best use of the hard standing areas. Please note that once laid-up for the winter you may be blocked in by other boats.
Third Party Insurance:
Owners who intend to park their boats on any club premises are required to provide their up to date insurance for inspection, prior to winter parking.
A copy will be retained for our records by the club secretary.
A minimum of three million pounds third party insurance is required. (This is normally the standard third party cover on small boat/marine insurance's).
---
Details
Flag Officers
COMMODORE – Robert Dinwiddie
VICE COMMODORE – Scott Train
REAR COMMODORE – Vacant
Officers
HON. TREASURER - Robert Kennedy 
HON. SECRETARY – John Sproat
MEMBERSHIP SECRETARY - Anne Stewart 
SAILING SECRETARY - John Broadbent
SAFETY BOAT OFFICER - Peter Hammond 
TRAINING OFFICER – Chris Nurney
BOSUN – Vacant
SOCIAL SECRETARY – Willie Patterson 
PIER MASTER - Gavin Phillips
CRUISING SECRETARY - Vacant
SOCIAL MEDIA MANAGER – Becky Davison 
CADET OFFICER – Joanne Harris 
POWERBOAT SECRETARY – Denis Latta
CLUBHOUSE CONVENOR - Vacant 
BAR MANAGER – Blythe Gale
COMMITTEE MEMBERS – Duncan Gillespie   Ian Purkis
Subcategories