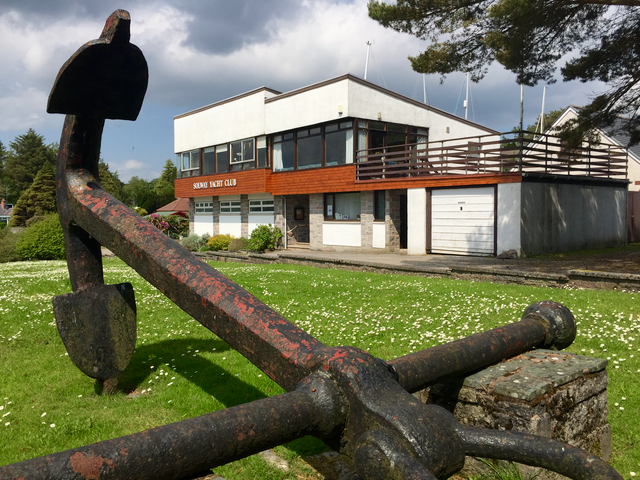 2016 ROUND ROUGH RACE
Yes folks, a totally wacky race for totally wacky racers.
Collect points along the way as you shoot off Horse Isles Beach after a LeMans type start;
proceed south east towards Rough island, picking up wayward crocodiles, lilos and all manner of things inflatable.
Pass through the sentinel gate as you round the island before heading back for an exciting finish on Horse Isles Beach.
Then it's time to wolf your way through your picnic and then prizes.
This is of course an all club event and cruisers are warmly invited to come along and anchor in the Bay to spectate and come ashore to join in the beach picnic.
Note ( puts marbles in gub and adopts posh tone...)
one is required to bring one's own pieces....😘
Watch this space for more info as the time draws closer....
Weather and Tides
(Select the 'Chart Tab' below the map for more and use your curser on each chart for even more detail)
Tidal Predictions at Hestan for next 7 days
Warning: - Make sure that you Adjust the chart time axis 1 hour (top Rt) to show in BST.
Full Tide Tables are available in the Members' Area - publication restrictions prohibit displaying them here.
---
Forthcoming Events
(Some browsers are showing an erroneous message below here - please ignore.)
.
---
Flying Fifteen Scottish Championships 4th - 5th June 2016
We are delighted that our Club has been selected to host the above championship this year. A dedicated web page has been posted and is the focal point for all information about the competition, entering etc. It will regularly updated as things progress.
---
Members' Sales and Wants
For Sale - see more details
Various chandlery items.
For Sale - Tara Westerly Fulmar 32' - £24,500
For Sale - Hunter Horizon 21 - Sail Number 38 - Offers invited.
Yacht Tender £100
Mirror £250
If you want to advertise - contact websec@thesyc.co.uk with details.
---
Don't forget our Web Site
If you have any interesting photographs, news or comments I would be most grateful for them - your efforts will be acknowledged.
Just Email them to Web Sec
---
Free Members' WiFi at Clubhouse
The committee has decided to offer free WiFi to all members at the Club House.
The WiFi key required to join the network can be found on the members' area of the website or can be obtained from a committee member on request. We hope you will find the useful for checking your e-mail, news and weather forecasts whilst waiting for the tide!
---
Members' Only Area
Here is an easy guide to registering
The Members' Area contains Club Access Codes, Current Club Handbook, Committee Minutes, the Club's Constitution and other member only information, which arises from time to time.
---
Downloads
All Downloads on this site are in Acrobat "pdf" format ... you can download the latest version of Acrobat Reader free
---
SYC Facebook Page

The Club's own SYC Facebook Group page is at http://www.facebook.com/groups/thesyc/
Come an join and post your comments, pictures, videos etc. for others to see.
Easily keep up with what's going on at SYC events!
This is a closed group, so please apply and you will be approved as soon as possible!
Note: - For the more cautious - joining Facebook is your choice - any notable information posted on it, will be copied to this site.
---