Associated Links
Cruiser Course Chart & Sailing Area
Visitor's Chart and Channel Information  -  TBA
---
Weather and Tides
Tidal Predictions at Hestan for next 7 days
Full Tide Tables are available in the Member's Area - publication restrictions prohibit displaying them here.
---
Boat Parking and Storage
Due to a growing demand for the use of the Club's hard standing areas your committee are having to introduce some regulation to the issue read more
Solway Yacht Club Group MMSI Number
We now have a Group Ship MMSI 023200097 for use by The Solway Yacht Club. Members with DSC equipped VHF sets can program in this Group MMSI number to receive DCS group casts. Further Details & Conditions of use by the Club
---
Removal of Two Wind Turbines from Robin Rigg
A licence has been granted for the removal of 2 turbines from Robin Rigg. A copy of the full licence is available here.
The licence is valid from 4th December 15 to 31st August 16. Basic details are : -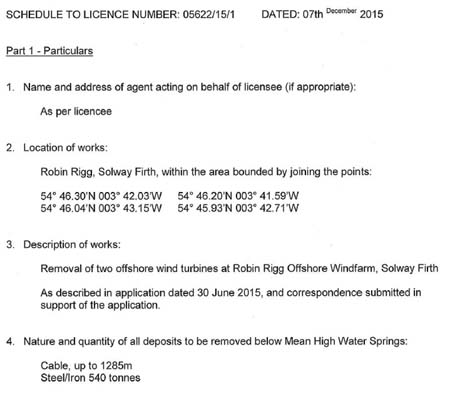 ---
SOLWAY YACHT CLUB - SELECTED NHC HANDICAPS 2013
NOTES
The examples given above show the elapsed time required to have each boat show a corrected time of exactly one hour. For example, in the above somewhat artificial race, the Hunter 20 would have to be within 10 minutes 36 seconds of the Sportina on the water to beat it.
NHC Handicaps supplied by the RYA. Calculations by the Sailing Secretary who believes they are correct but gives no warranty.
These NHC handicaps will be used for individual races e.g. the RNLI Regatta.
They will be the initial handicaps for multi-race events e.g. Kippford Week, after which the handicaps will be adjusted to take the previous results in the series into consideration.
Boats listed are considered possible competitors but handicaps for others are available. Speak to the Sailing Secretary.
The calculations get a bit complicated and further information is available at:
http://www.rya.org.uk/racing/Pages/NHC.aspx . Alternatively, again speak to the Sailing Secretary.
---
Workshop Facility in Club House Garage
A bench, vice etc. has been installed in the garage at the club house. The garage door has been fitted with a number lock. The Code is available to members in the members only area.