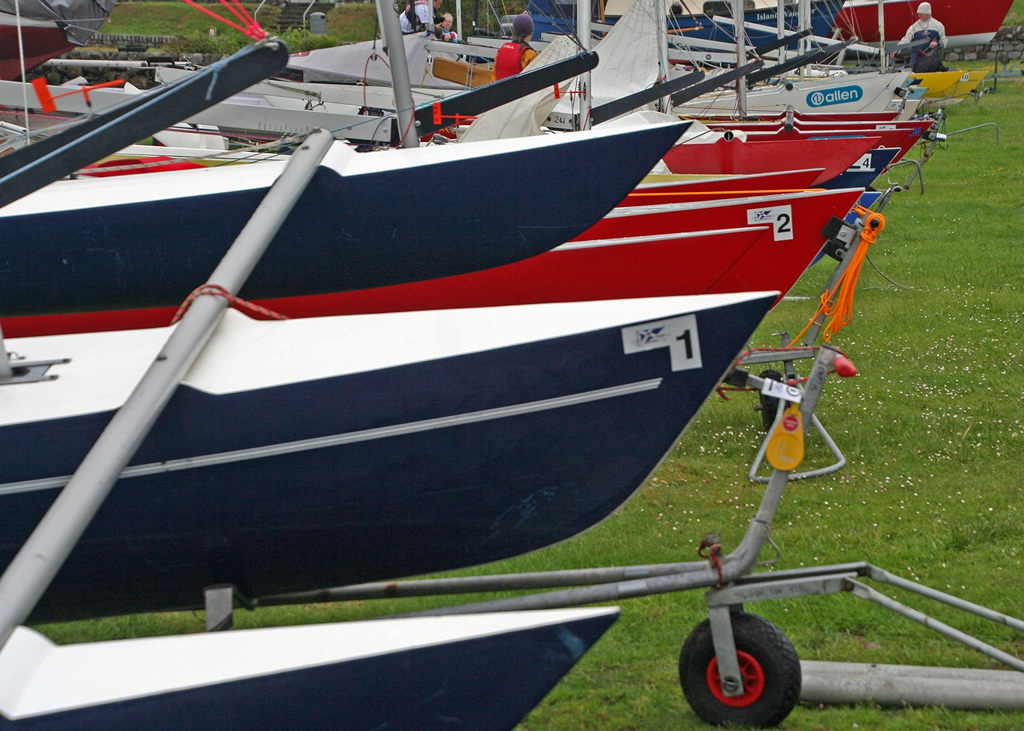 After months of planning, the first ever "Sailability" regatta for disabled sailors was arranged by Solway Yacht Club in Kippford. As the Clubhouse facilities weren't entirely suitable, the Club was most grateful that the Kippford Association had made the fully accessible Village Hall available for the whole weekend, without which it couldn't have happened at all.
Sailors from all over Scotland and many from England gathered on the pier on Friday, getting their specially designed "Challenger" Trimarans assembled and rigged, ready for the Regatta to start on the tide on Saturday. This is a very special fleet that includes sailors with varying degrees of disability, from those with learning difficulties to others who have major physical disabilities, boat controls all being adapted to make sailing possible. Many sail alone in their boats, others have "Buddies" aboard to guide and assist the disabled skipper.
Much as forecast, Saturday dawned wet and windy as the sailors prepared for pre-race briefing by Event Principal, Peter Hammond. Border TV arrived, crews dressed in their heavy weather gear and the Club's Cadet "Shore Fforce" eagerly awaited their assistance role. As launching time approached, Principal Race Officer, Chris Nurney had little option in the strong wind other than hoist the Postponement Flag, hoping it would ease. Rule One in most sailing is; "It must be safe to launch, sail and recover" and all three apply. Despite the one-hour postponement, the wind showed no sign of abating and so with much reluctance the "Sailing Abandoned for the Day" flag replaced the postponement flag.
So back to the Village Hall for early lunch and the Club's foul weather plan. Club Commodore, Ian Purkis put on a hastily arranged but well attended "Shackleton Centenary Voyage" presentation including the voyage to Antarctica that he and his wife Margaret had been on in 2014. Later, the evening social had the hall filled with visitors and members enjoying a great meal followed by the popular and very competitive boat-building game, using only balloons, paper, tape and not much else! Later, everyone dispersed hoping for more favourable conditions on Sunday.
No better! If anything the wind was even stronger and at 10:30 the PRO's decision "All Sailing Abandoned" had an inevitability about it. Reports of a major mid Atlantic rescue of other sailors highlighted the risks. Despite this, the mood was still very positive and with our friendly Galloway News photographer Bobby Geddes, only left to take photos of boats being de-rigged and returned to their trailers, the event that never happened was packed away. Despite the disappointment, the weekend had been a great experience for all. The Club had proved to itself and others it could put on a major event for the disabled, the visitors, many first timers to Kippford, had seen what a beautiful area we have and were thrilled by the welcome, and not least many new friendships were made.
Plan is now to come back in 2018 and do it all again! For more information about Sailability Scotland SCIO please visit www. sailabilityscotland.org.uk